Tech stuff and Free Software
A page for techies. My Kit, and some free software you may find useful.
My Kit
Cameras:
Canon R5
Canon 5D Mk-II
Canon 7D
Lenses:
Canon ES 70-200mm f2.8 IS L
Canon RF 24-105 mm f4 IS L
Canon ES 24-105 mm f4 IS L
Canon ES 24-70 mm f2.8 L
Canon ES 50mm f2.5 macro
Canon ES 50mm f1.4
Canon ES 17-40 mm f4 L
Canon EF-S 55-85 kit lens
Sigma 10-20mm (EF-S mount)
Accessories:
Circular Polariser, UV filter, Variable + selectable-stop ND filter
Canon cable release + IR
X-rite Colorchecker Passport
Tripod (Manfrotto)
Lights:
Canon 430 EX, 580 EX and 580 EX-II speedlights
QS-DGS150 flash heads
Mini Manfrotto LED light
Canon ST-2 remote trigger, Hähnel "Captur Pro" flash/camera trigger
Light Accessories:
Roundflash "dish" speedlight diffuser
Foldable Backdrop
Reflectors (5 colours including black)
Umbrellas (Several)
Flash stands (4 in total)
Various gels, GOBOs, modifiers ...
Post Processing:
Capture One Pro, with (BenQ) monitor calibration using X-Rite Pantone Color-Munki and Color-Checker Passport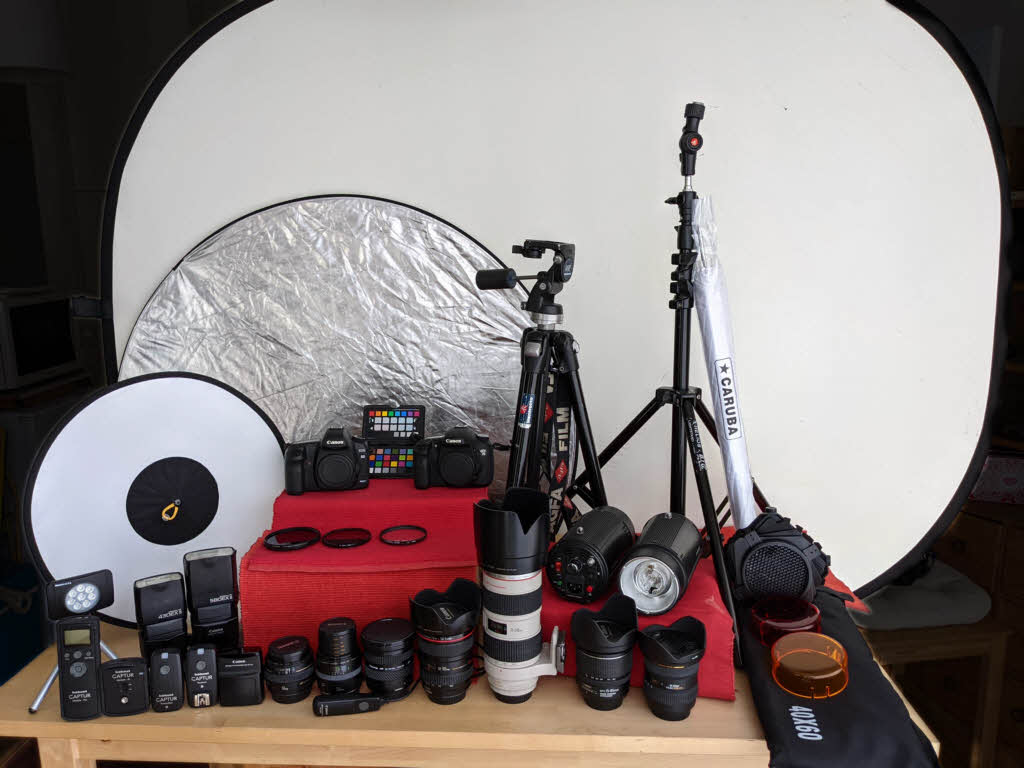 ---
Some software for free
Though I'm not a professional (web) programmer, I learned my computer programming skills during my career as a product marketing engineer for microprocessors in multinational semiconductor companies (Assembly language and 'C', mostly), and while building this site over the last 10 years or so. When I changed jobs (a long time ago), I promised myself to not go and learn another programming language - I broke my promise... :)
While developing this website, I made some web-based utilities for myself (also, just for the fun of it) which I decided to post here, in case they are of use to others. Contact me if you'd like to get the source code.
These browser-based tools and fun things I developed are offered as-is, with no guarantees what so ever. They should work on most modern browsers though some may be a bit pointless on a mobile device.